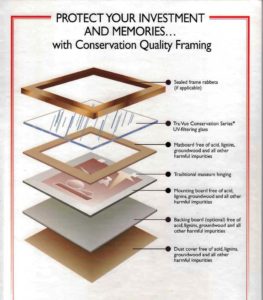 Conservation Framing
At Arts In Mind, we believe in and practice Conservation and Museum Standard Framings. These standards of framing offer an important form of insurance for your valuable artwork and mementos, keeping them as lovely as they are today for your enjoyment for years to come. The cost premium for Conservation Framing is marginal — and certainly well worth it.
Upon request we employ materials that have been proven to protect and maintain art in as close to its original condition as possible such as UV Protection Plexiglass that offers 99.7% UV Protection (3mm material thickness), as well as the right cotton mattings and adhesives.
Ultraviolet light rays not only cause colours to fade but also start to destroy the materials right in the frame. Conservation Quality picture framing glazing is specially formulated to protect framed works of art from the damaging effects of ultraviolet light.
An artwork will deteriorate over time due to exposure to the environment. Conservation Framing is designed to minimize deterioration and prevent contributory deterioration by materials surrounding the artwork. Hence, this framing technique is an important and valuable service to any frame maker.
Our experienced framing consultants are trained to advise you in the appropriate selection of materials to protect your fine art for years to come. Our clientele includes museums and art galleries who require their valuable artworks to be preserved in their original mint condition.
Damage due to framing techniques is most commonly caused by the use of materials that contain acid, which discolour, bleach and eat into artwork over time. Arts In Mind protects your valuable artwork through the selective use of the finest museum quality, acid-free materials.
Constant exposures to strong lights or direct sunlight are other common factors that cause environmental damage to artworks, in particular works on paper. Prolonged exposure leads to the bleaching of pigments and the discoloration of papers. We adopt case-specific conservation framing techniques such as the use of UV filtration perspex, for the UV-filtered protection of artworks.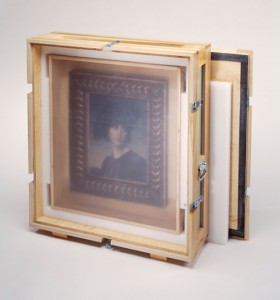 General Framing
Originals & Limited Editions including paintings with oil or acrylic on canvas, pastels/charcoal, ink on rice paper, lithographs and woodblock prints.
Mementos such as newspaper articles, photographs, letters and announcements.
Business licenses, certificates and documents.
Hobbies & Passion e.g. posters, maps, tapestries, jigsaw puzzles, currencies etc.
Shadowbox Framing.  We can create shadow box frames in varying sizes with easy to open tabs to allow access from the back.
Framing of 3-dimensional art of almost any kind. We can customise a frame that protects your precious 3-D artworks with conservation quality materials and framing methods.
Professional mat cutting. We use the Matt Wizard , a computerised mat cutter that is capable of doing all cutting from front and back, to cut single, multiple openings and V-grooves in all designs, and pre-assemble double and triple mats without having to remove the mat from the machine.
Professional picture hanging – any size, any wall surface. We are happy to offer solutions for hanging your artworks aesthetically while protecting them from destructive elements.
We can custom make wooden or acrylic stands to display mementos and objects.
We specialise in high quality mirrors and all types of polished glass tops, and also have extensive experience with framing and installation of large mirrors used for interior decoration.